BOO! Scared ya? We hope so, because it's that time of the year again 🙂
The time of the year for kids to go trick or treating; as for us adults, it's a chance to throw a spiced up Halloween party! And what's the best way to do that? You've guessed it, it's cannabis infused yum yums (aka. treats).
Interested in throwing an awesome Marijuana-ween party? Yes, that's a word; in that case here's a little tip: aside from the recipes we'll be cooking up today, you should definitely also stock up on some edibles. Why? Because the recipes below are so delicious, they won't last long 🙂
Well then, shall we? Let's! Let's dive in and get started with our recipes. We will be breaking each recipe into two sections: "Ingredients" and "Preparation".

Spicy Roasted Pumpkin Seeds With Cannabis-Infused Coconut Oil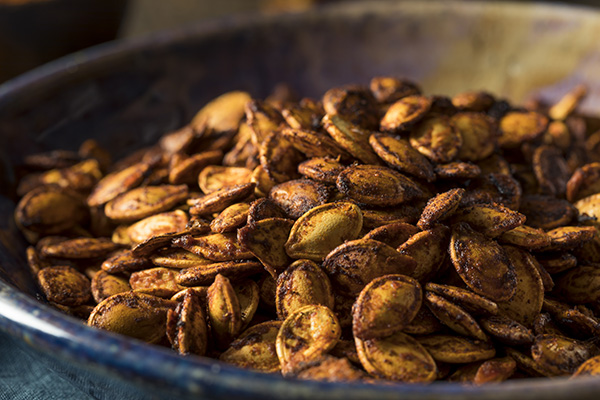 What You Need
2 cups of pumpkin seeds
2 tbsp of cannabis coconut oil (room temperature)
1 tsp of Worcestershire sauce
1/8 tsp of hot sauce
1/2 tsp of salt
1/4 tsp of pepper
1/2 tsp of paprika
1/4 tsp of ground cumin
1/4 tsp of cayenne pepper
How to Make It
Preheat oven to 250 degrees F.
Place pumpkin seeds, coconut oil, Worcestershire sauce, and hot sauce in a small bowl. Toss the ingredients until they're thoroughly mixed.
Mix salt, pepper, paprika, cumin, and cayenne pepper together in a separate, small bowl. Sprinkle this seasoning mix over the seeds. Toss to coat.
Grease a 9"x13" pan lined with foil. Evenly spread the pumpkin seeds in the pan and bake for 45-50 minutes, until dry and lightly browned. Stir occasionally, every 15 minutes or so.
Remove from the oven and let cool. Then serve!

Caramel Coconut Apples With Cannabis-Infused Chocolate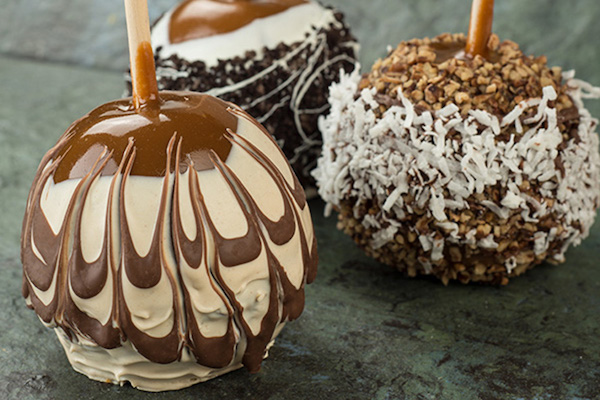 What You Need
1 bag of caramel
1 can of evaporated milk
6 apples
2 cups of chocolate chips (melted)
1 bag of coconut flakes
1 bar of cannabis-infused milk chocolate
Medium-length wooden skewers
Parchment paper
Coloured icing (green, purple, white, orange, etc.)
How to Make It
Cover a cookie sheet with parchment paper. Pour coconut flakes onto a large plate
Cook caramels and milk together in a large saucepan over medium-low heat until the caramels are melted and smooth. Stir frequently. Remove from heat and let the mixture stand for five minutes.
Skewer applies and dips them in the caramel. Then roll the apples in coconut flakes and place them on the cookie sheet.
Once all the apples are covered in caramel and coconut, place them in the fridge until the caramel is firm.
Take apples out of the fridge and remove their cores. Slice each apple into six individual pieces.
Place your chocolate chips and a cannabis-infused chocolate bar in a microwave-safe bowl. Heat for 30 seconds at a time, stirring after each 30-second interval, until chocolate is melted.
Skewer each individual apple slice and dip it in the melted chocolate. Place the apple slice on fresh parchment paper and let it cool.
Use the coloured icing to create your preferred Halloween design on each apple slice.

Sweet and Salty Cannabis Popcorn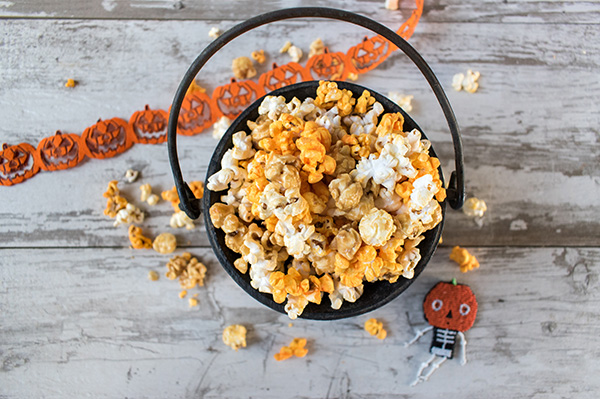 What You Need
3 tablespoons of coconut oil / olive oil
1/3 cup of popcorn kernels
1 1/2 tablespoons of water
1 tbsp + 1 tsp of sugar
30 grams of cannabutter (roughly 1 oz)
Salt to taste
How to Make It
Add water and sugar to a small saucepan, and put it over low-medium heat until the sugar dissolves. At the same time, heat your coconut oil or olive oil in a three-quart saucepan on medium-high heat.
Add 3-4 popcorn kernels to the heated oil. Wait for the kernels to pop. Once they do, add the remainder of the 1/3 cup of kernels. Cover the pan, remove from heat, and wait 30 seconds.
Return the popcorn pan to the heat and wait for the kernels to begin popping.
While the popcorn is popping, add 30 grams of cannabutter to the sugar-water mixture and allow it to completely melt, stirring occasionally. While doing this, be sure to shake the popcorn pan gently back and forth over the burner while the kernels are popping. Keep the lid slightly open so that steam can escape from the popcorn pan, which will make the popcorn crispier.
Once the popcorn is down to several seconds between each pop, remove the pan from the heat.
Pour the butter-sugar mixture over your popcorn, place the lid back on and toss. Add a little salt, put the lid back on and toss again.

Pour the popcorn into a large wide bowl

.

Cannabis Chips and Chipotle Guacamole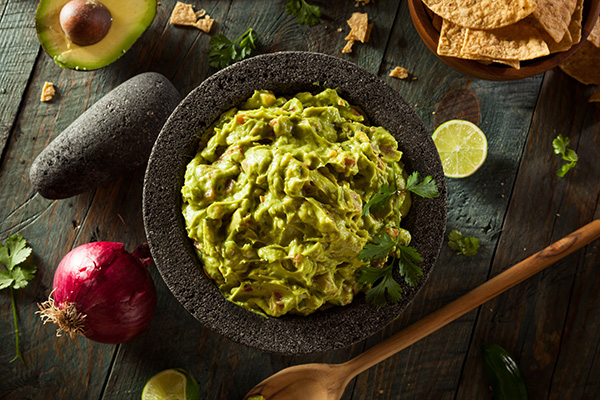 What You Need
2 ripe hass avocados
2 tsp of lime juice
1/4 tsp of kosher salt
1/4 cup of red onion, finely chopped
2 tbsp of cilantro, chopped
1/2 of jalapeño with seeds, finely chopped
Cannabis tincture
Tortilla chips
How to Make It
Coat avocados with lime juice in a small bowl
Add salt, then mash with a fork until smooth
Depending on the type of cannabis tincture you're using, add however many drops/doses you feel are adequate for you and your party. Continue mashing and mixing.
Now add the onion, cilantro, and jalapeño, and mix everything well. Add more salt and lime if necessary, for taste.
Dip tortilla chips into the guac and see for yourself if you've managed to outdo Chipotle.
And that's a wrap! (no pun intended).
We hope you enjoy these recipes if you decide to try them out!
See ya soon! (In a non recipe related post)
Spooky Boo!